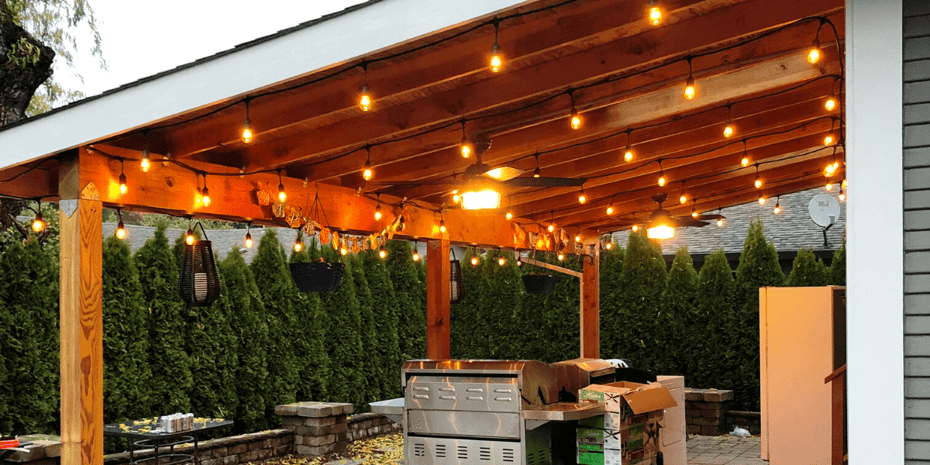 Everyone is spending more time outside now that the weather is getting nice and there are several projects you might be thinking about that require electrical work. Here are the top five electrical projects to enhance your outdoor living space.
Lighting
If you have a covered patio, deck, or just need more lighting on the outside of your house, there are several options to help brighten up your outdoor space.
Recessed can lights can be installed in a covered patio or in the eaves on your house as long as there is enough room for the actual can to fit in the ceiling space.
Light fixtures can be installed on the side of your house, in your covered patio, or in the eaves of your house.
When choosing light fixtures that you want installed outside, be sure they are damp-rated or rated to be installed in exterior applications. You might also consider how bright you want the light bulbs to be that you use in the light fixtures.
Ceiling fan
Another really great addition to your outdoor space is a ceiling fan. Before you go to the store to purchase the ceiling fan for your outdoor project, you should decide what options you want to have with the fan you purchase. You may need to consult with your electrician before purchasing the fan since the wiring options might affect what you buy.
Do you want a ceiling fan only, with no light included?
Do you want a fan/light combination?
Do you want it to be controlled by a remote control or by a wall switch?
Make sure the ceiling fan you purchase it is outdoor rated. Depending on the ceiling the fan is being installed in, you might also need to purchase a fan that can be installed in a sloped ceiling.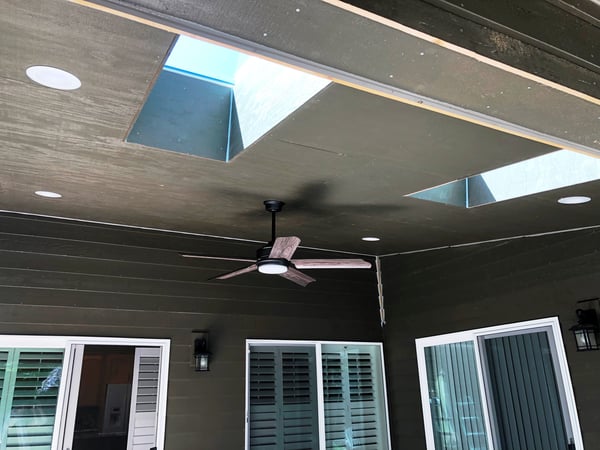 Circuits and outlets for appliances and tools
If you have outdoor appliances or lawn tools that need to be plugged in, you might need to have a new circuit run from your electrical panel and outlets installed on the outside of your house or in your outdoor living space. Some projects that might require a new circuit and outlet are:
Traeger grill or other type of outdoor cooking appliance that requires an electrical connection.

Electric lawn tools like mowers and leaf blowers.

Refrigerator, freezer, or other outdoor kitchen appliance.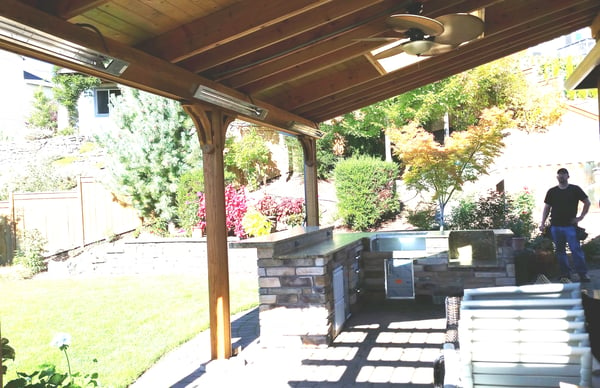 Landscape lighting
Landscape lighting is a great way to brighten up your outdoor space for security or simply to enhance the atmosphere when you are relaxing in your outdoor space. Designing landscape lighting can be fun because there are hundreds of choices of types, sizes, and designs of the lights. You will need an electrician to supply power to an outdoor outlet which you use to plug in the low voltage transformer which supplies power to the rows of landscape lights.
Fountain or water feature
Do you have a fountain or water feature that you want to add to your outdoor area? Check with your electrician about the electrical requirements for your fountain or water feature. Some points to consider are:
How far away is the water feature from the house?
Getting wiring to the water feature might require digging a trench to bury the wiring. There are specific depth requirements that must be inspected by an electrical inspector before they are covered. Be sure to find out the trench requirements before the trench works begins.

Where to mount the outlet. The outlet is typically mounted to a post and if designed correctly can also be used to supply power to additional items in that area.
Are you considering a residential remodel project, an electrical panel change or upgrade, or a garage or shop electrical project? Thomas Adams is an Oregon Master Electrician, with an Inspector Certification, who has over 25 years of experience in the industry and he would be happy to talk to you about your Tualatin electrician needs.