Ceiling fans can be very useful and add to the comfort level of your home in various ways. Here we will discuss a number of aspects you should consider when you are buying or having a ceiling fan installed in your home.
When to purchase
Ceiling fans can be purchased at any time of the year. Most people think about using ceiling fans to cool down, but they can also be used to circulate warm air in the winter months. There is a switch on ceiling fans that turns the fan blades in the opposite direction. This will cause the fan to push warm air that has risen to the ceiling area back down to you, thus circulating warmer air in the winter.
What to purchase
There are a number of factors and features to think about when you are purchasing a ceiling fan.
Name brand. Try to purchase a fan from a well known name brand since they are typically well-established and are easier to contact if you need assistance with parts.
The heavier the better. Ceiling fans with well-built motors are typically heavier than others and usually last longer than lighter models.
Down rod selection. If you are having a ceiling fan installed in a high ceiling, you may need to purchase a down rod to lower the height of the ceiling fan in the room.
Sloped ceiling. If you are having a ceiling fan installed in a room with a sloped ceiling, you must purchase a fan that includes the hardware to be able to install it in a sloped ceiling.
Damp rated. If you are going to have a ceiling fan installed in your outdoor living space, you need to make sure the ceiling fan is rated to be installed in a damp location.
Size (width/length of blades and the number of blades). This depends on the size of your room and how much air movement you would like to have.
Enclosed for bunk bed type situation. There are ceiling fans that are fully enclosed so you can install them in areas where people will be close to the fan, like in the situation where you have bunk beds close to the ceiling.
Fan only or fan with light kit. Depending on the layout of your room, you may only want a ceiling fan or you may want to purchase a ceiling fan that includes a light kit so it gives you air circulation and light.
LED light kit or fan with screw in bulbs. If you purchase a fan with an LED light kit built in, you will need to replace the entire fixture if something goes wrong with the lights. LED lights built in cannot be replaced like screw in bulbs.
Remote control. Sometimes the remote control is included with the fan and other times you have to purchase the remote control unit separately.
Are you overwhelmed by all the choices available when purchasing light bulbs for your ceiling fan or light fixture?

Where to purchase
You have a few different options of locations to buy your ceiling fan and they all have their pros and cons.
Box store. Box stores carry well known name brand ceiling fans and offer plenty of accessories like remote controls, down rods, pull chains, etc. Box stores usually have a decent return policy and reasonable pricing as well.

Lighting store. Specialty lighting stores sometimes have a limited selection of ceiling fans and their pricing is typically higher than at a box store. They usually have good return policies and can help you get replacement parts if there is something missing or broken.

Online. It is tempting to purchase ceiling fans and other fixtures online because you might find a better price there. The biggest downside to purchasing ceiling fans and light fixtures online is that if there are parts missing or you need to return it for some reason, this is not always possible. Be sure to figure out the return policy before buying any ceiling fans or light fixtures online.



How to install
The actual install of a ceiling fan is very important.
Replace existing center light. If you have a center light in your room now, you might want to replace that with a ceiling fan or a ceiling fan/light combination fixture.
Add new to room. Ceiling fans are great to add to any room: bedrooms, living rooms, dining rooms, entryways, etc.
Must have appropriate electrical box in the ceiling. This is very important! Ceiling fans must be installed using an appropriate fan rated electrical box to handle the weight and movement of the fan. Ceiling fans cannot be installed using the box that a standard light fixture uses.

There are three types of boxes that are rated to handle ceiling fans:

Mounted directly to the bottom of the joist (also called pancake)

Mounted on the side of the joist or truss

Mounted using a bar (used when spanning between 2 joists or trusses)

Remote control or wall switch or pull chains.

You may want to control your fan with a remote control rather than a wall switch. Remote controlled ceiling fans can have a built in unit or a unit you purchase separately from the fan. Keep in mind that if you purchase a ceiling fan with the built-in remote control unit and something goes wrong with it, you are going to have to purchase an entirely new ceiling fan to replace it.
If you are replacing an existing fixture that is already controlled by a wall switch, you may opt to control your fan with the existing switch. It might also be possible to add a wall switch if there isn't an existing one. You will need to consult with a licensed electrician about the possibility of adding a wall switch if that is what you want.
You also have the option to control your fan with the pull chains on the actual fixture itself.

If you currently have a light fixture, it will have a switch. Let's assume you replace the light fixture with a light/fan combination fixture. Using the pull chain method, you can set the pull chain to work in tandem with the wall switch. When you walk in the room, turn on the light with the switch, and the pull chain will have been already set so the light comes on automatically. When you need the fan, just pull its corresponding chain. If you leave it that way, the next time you come in the room and turn on the switch, the light and fan will both come on.

Design in room. There are many ways to configure the ceiling fan placement in the room.

Fan only.
Fan/light combination in center with no other lights.
Fan only with recessed can lights in grid around it.
Other configurations. Be creative!
Height in room. When your ceiling fan is installed, the fan blades need to be at least seven feet above the floor. If you have a relatively low ceiling, you will need to purchase a low profile ceiling fan, sometimes called a ceiling hugger. These fans do not have down rods so they are installed close to the ceiling to allow for the safe height above the floor.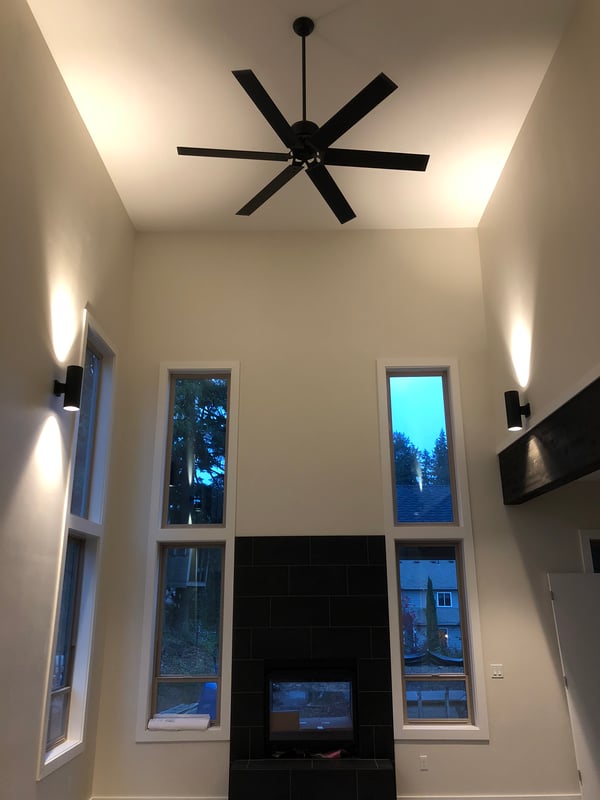 Who to install
Be sure to call a licensed electrician for your ceiling fan installation. It is important to have a professional make sure that the fan is installed with the proper fan rated electrical box that can handle the weight and movement of the fan. Fan rated boxes come with much larger screws than those for a light fixture. Classic Electric has completed numerous ceiling fan installations in remodel applications. Whether you simply want to replace an existing ceiling fan, add one to a room that doesn't have one, or if you have any other lighting ideas for your home, we can help.
Are you considering a residential remodel project, an electrical panel change or upgrade, or a garage or shop electrical project? Thomas Adams is an Oregon Master Electrician, with an Inspector Certification, who has over 25 years of experience in the industry and he would be happy to talk to you about your Tigard electrician needs.